I can hardly believe that August is only 4 days away...honestly...where has this year gone? For the past 2 years I have been teaching boot-camp classes and working with personal clients during the evenings and on weekends without much of a break. This has meant some really long days and neglecting my own training sometimes to try and fit it all in. I decided back in June that I am going to take August off from personal training and from leading any running related clinics and reset myself. I am going to continue to teach boot-camp on Wednesday and Sunday evenings, but the other time will be my own (well except my full time job of course). So what am I going to do with all my spare time you ask? Well...to make sure I don't just let it pass me by, I thought I'd come up with some things I'd like to do before September rolls around.
Just down the street, a new kettlebell class has opened. I'd like to join the 'Fitness or Sport Kettlebell' class to see what it is all about. It's always fun to take other people's classes to see their teaching style and to get different movement combinations that I can pass on to my boot-campers. So I guess you could call this one research.
Kayaking - a few years ago, I went ocean kayaking and loved it. I love being on the water in any capacity possible, and being able to get into little coves and see nature so close is amazing. Plus, you can get a really good tan with the glare off the water!!
Stand Up Paddle Boarding - okay...this one has been on my list for 2 years now. I say it is high time that I check this baby off!!! There are now so many options to rent and take lessons and actually just read (while looking for this picture) that I can rent/take lessons in the same spot as the sea kayaking.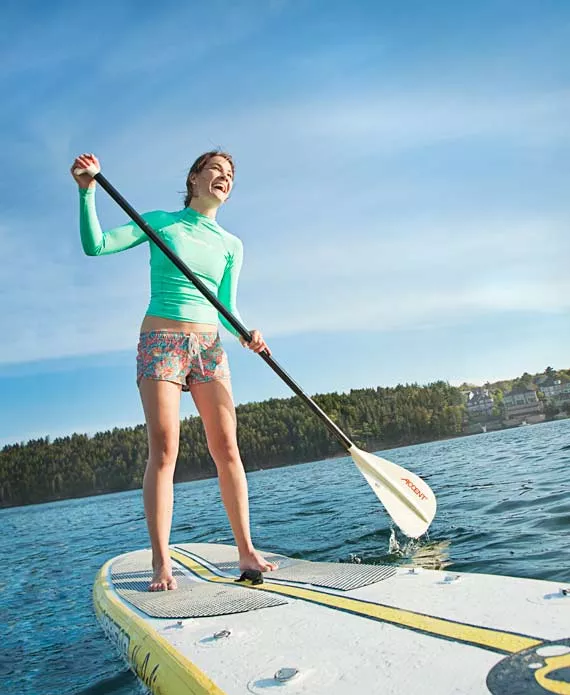 Hiking - of course I hike (see prior post) but maybe look into ones I haven't done. I'm not a person who likes to hike for hours, but a 2 hour-ish hike suits me just fine. The horse/deer flies have been really bad this year, and so this one may get put on the back burner.
Get back to my own level of running/fitness that I was doing back in the winter. I feel like this week I've got a good start on this.
Healthier eating habits. Working at the golf course means I have food at my fingertips so I'm not packing anything to bring with me. This also means I may not make the healthiest choices when I'm hungry...for example, onion rings for lunch on Monday. Bad me!!
So there you have it...some August goals! In the back of my mind, I'm trying to figure out how to schedule personal clients/classes when I start back in September so that I'm not putting in 12 hour days every day of the week. It sure is a balancing act!
Why not set some August goals of your own?? It's fun to go back and see if you were able to check any of them off your list!!